Managing cash flow during COVID-19 has proven to be difficult for merchants. Even with countries re-opening, the footfall is nowhere close to pre-COVID numbers. With businesses expected to adhere to strict social distancing guidelines, there is more money going in as opposed to revenue generated.

An app-less loyalty-based system that generates mobile vouchers for future purchases can influence shopping decisions and generate immediate cash flow for merchants that are struggling due to the pandemic.
Customer loyalty programs: How does an app-less loyalty-based system benefit merchants and customers?
1. Immediate cash flow for merchants

By selling mobile vouchers for future discounts, merchants are able to generate much-needed cash flow immediately.


2. Mobile vouchers at discounted rates for customers

Customers benefit by purchasing vouchers at a discounted price with a higher redeemable value.


3. Driving footfall and generating loyalty during times of uncertainty

With the uncertain state of the economy, customers are being pushed to seek out discounts and deals. Even then, a majority of customers, especially millennials, are keen to help local businesses. Merchants that implement this type of system are thus at an advantage and can leverage customer loyalty by offering vouchers that could guarantee another visit.


4. Eliminates the need for a consumer-facing mobile app

Loyalty programmes usually have one snag – it requires customers to download the merchant's app. With app-less loyalty-based systems, it eliminates this need, creating a seamless way for one-time customers to turn into regular buyers.
Customer loyalty programs: How do app-less loyalty-based systems work?
Small and medium-sized enterprises (SMEs) can sell these mobile vouchers either in-store or online.

There are at least two different kinds of vouchers that merchants can offer:


1. Prepaid vouchers

Step 1: Merchants offer prepaid vouchers to customers at the point of purchase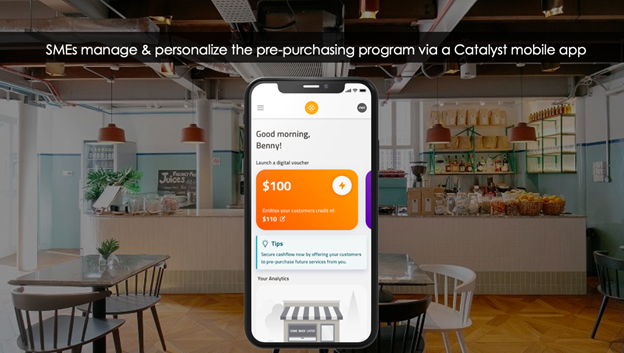 Merchants can ask their customers if they would like to purchase a prepaid voucher for future purchases. They can choose to offer discounts on these prepaid vouchers to entice customers.


Step 2: Customer decides on a voucher and makes the payment

Customers can pay by cash, card, or by scanning a QR code. QR codes are especially useful as they provide a method of contactless payment that avoids the touching of any surfaces.


Step 3: Merchants ask the customer for their mobile number and issue the voucher

Most loyalty-based systems only require the customer's mobile number to issue the voucher. Once the merchant feeds that information into the app, a QR code containing the voucher details can be sent as a text, WhatsApp, or Facebook Messenger message to the customer.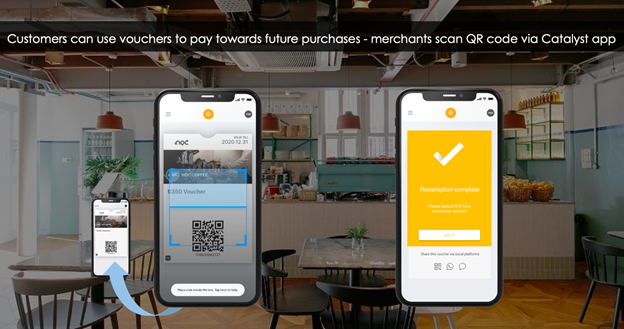 On their next visit, customers can redeem the purchased voucher by scanning the QR code that was received.


2. Cashback vouchers

Cashback vouchers can be issued in a similar fashion to prepaid vouchers. The only difference is that customers earn cashback when they shop for X amount, which is decided by the merchant. This incentivizes shopping at the store as well as motivates the customer to return.
The future of customer loyalty programs
For 69 per cent of consumers, their choice of retailers is influenced by whether they can earn customer loyalty or reward points. 57.4 per cent of consumers join a loyalty programme to save money while 37.5 per cent seek to receive rewards.

It is clear as day. Customers love loyalty programmes. It is also important to note how the pandemic has shifted consumer behaviour permanently. Customers are more likely to shop local, spend less and seek out the best deals.

By eliminating the need for an app, an app-less loyalty based system creates a seamless way for customers to subscribe to such programmes and support local businesses. Merchants are able to benefit from the increased footfall, as well as the ability to generate cash flow immediately. Overall, it would go towards helping businesses stay afloat.
Resources
This article originally appeared in the Entrepreneur's Digest print edition #94 and has been edited for clarity, brevity and for the relevance of this website.
---
About the Author

Sneh Ratna Choudhary | Content Marketer | Pulse ID

Sneh is passionate about nocode marketing technology, the environment and sci-fi shows. She has been featured on B2B Marketing, Business2Community, Databox, SmarterCX, The Manifest and Wordstream and is an author on CareerMetIs, Chatbots Life, Mention and GetCodeless. The driving force behind her various (sometimes quirky hobbies) is to "learn something new every day." When she is not online bingeing on Netflix documentaries, she is busy fawning over dogs, jamming out to Queen or has her nose in a nonfiction book.