With over two decades of history and expertise, Kim's (Kim Paradise) is one of Singapore's largest tingkat delivery service providers in Singapore. Since its beginning in 1999, the business prides itself on serving quality food without fuss. Unsurprisingly, Kim Paradise tingkat appeals itself to busy households that seek hearty home-cooked meals and during its peak season, could be found delivering up to 10,000 orders each day.
Kim Paradise tingkat: Automating with a human touch
Having to operate at a larger scale over the years, Kim Paradise has automated a significant portion of its operations in order to keep up with demand. At the moment, around 50 per cent of its work processes have been automated, with plans to increase this to 80-90 per cent in the following year.

Although automation is able to bring about great benefits to a business by speeding up processes and ruling out human errors, it is often wondered how the quality of food is maintained without a human element.


Mr Clement Tiang puts this to rest as he explains how the automation process works: "We focus on the little details to ensure that the high quality of our food is maintained with the help of automation. For example, if a chef cooks a chicken dish without following the standard procedure, he might get the steps wrong – such as marinating the chicken with the wrong spices.

"Even if he whips up the dish with a wok, he will still be unable to get the best flavour out of the dish. With accurate details and steps, automation can achieve this without needing a human to oversee the process."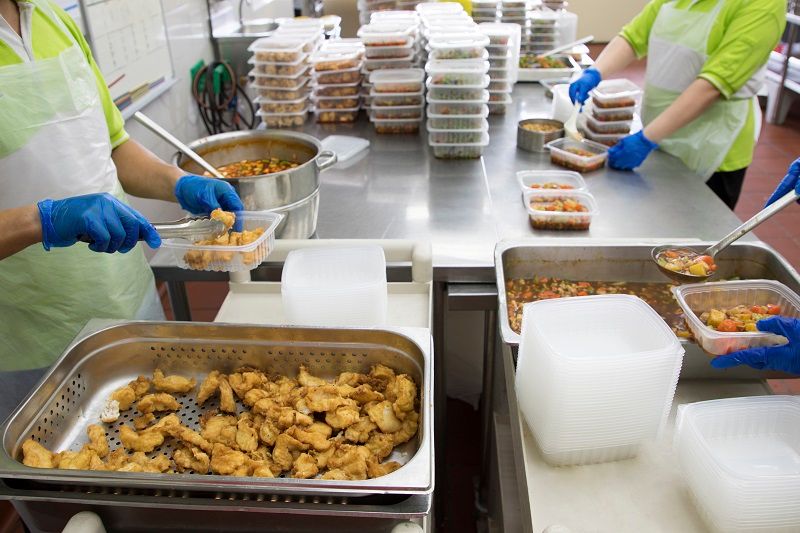 During its peak season, Kim Paradise tingkat delivery services up to 10,000 orders each day. PHOTO from ED#94 2020 Nov/Dec Pg 28-29
---
Even as Kim Paradise has embraced automation and digitalisation in its business, Mr Tiang expressed that it is still important to retain a human touch. Rather than implementing everything under the sun, he emphasised that there is a need to first understand the needs of customers, as well as what the staff can achieve.

"We are keen to constantly upgrade ourselves, but the human touch is necessary. This is similar to how we still love and appreciate the joys of sitting together for a meal with our family, rather than having each family member buy their own food and eating in their own rooms. Hence, I honestly believe that achieving a two-way conversation between us and our customers is important to maximise the benefits of digitisation," said Mr Tiang.
Kim Paradise tingkat: Multi-faceted strategy to branding
Along with the rise of digitalisation, the usage of digital and social media has become the norm for many businesses when it comes to their branding and marketing efforts. Kim Paradise is no exception, and Mr Tiang discussed how social media can be a useful tool for brand building and how it is crucial for connecting with its customers.

"We believe in leveraging social media platforms to connect with our customers. Through our posts, we are able to better raise awareness about our brand and its qualities. We also provide updates on our promotions so that our followers will be able to share them with their friends and family easily in this age of new media."

"In order to make effective use of social media, businesses need to have a clear plan and implement standard procedures. Doing so ensures that the brand's values and messages are relayed appropriately to its consumers. It is not just about filming a video and putting together the best scenes to showcase the brand. Whatever the brand does, it has to come across as genuine and authentic," added Mr Tiang.

On top of using digital and social media to promote the brand, Mr Tiang made mention of some other aspects of Kim Paradise's brand-building strategies, and how positioning a brand as trustworthy, honest and sincere to customers is the biggest challenge when it comes to brand building.

"At Kim Paradise, we choose to adopt a multi-faceted strategy. On the business front, we believe in working hard, procuring the freshest ingredients, focusing on quality and upholding good hygiene practices.

"In terms of human resources, we encourage our staff to be charitable and we care for them just like how we would take care of our customers. Together with digital media, every one of these aspects plays a part in getting the brand to where it is today," expressed Mr Tiang.
Kim Paradise tingkat: Evolving for the future
During the height of COVID-19 in Singapore, the industry experienced increased competition as other tingkat delivery service providers emerged to capitalise on the surge in demand. Rather than focus on the competition, Mr Tiang feels that it is important for Kim Paradise to concentrate on what it has been doing well all along, but at the same time, look towards upgrading and improving.

By focusing internally, the business can find new and improved ways to provide the best food and services to its customers, instead of competing with others and trying to one-up them.

"The increase in competition during the Circuit Breaker period is normal. Everyone needs to survive. The only difference between us and them is that we have been in this trade for many years, even before tingkat was well known in Singapore. This gives us a heads-up on knowing how and what to improve on."

"Achieving the highest standards of hygiene and cleanliness during food preparation continues to be a key focus in the industry and this has always been our priority. We have been doing it since the birth of Kim Paradise. Even if we have to spend much more than others in the industry to keep our hygiene standard at its best, we will gladly do that so as to uphold the promise that we make to our customers," said Mr Tiang.

On keeping the business sustainable, Kim Paradise has plans to move into new areas to introduce more people to the brand and to continue bringing convenience to its customers. As the industry evolves, different types of cuisines and menus, as well as innovative food options will always sprout up. This is especially so given consumers' evolving tastes.

In order to remain in the lead, Mr Tiang believes that there are opportunities for Artificial Intelligence and automation to come into play, ushering in a new era of tingkat home delivery services.


This article originally appeared in the Entrepreneur's Digest print edition #94 and has been edited for clarity, brevity and for the relevance of this website.