Established by a mother-and-son duo in 1999, Kim's (Kim Paradise) started out from humble beginnings in a shared kitchen at Joo Chiat. With a promise to provide high-quality and delectable home-cooked meals to families, Kim Paradise has remained in the industry for over two decades and become one of the largest tingkat delivery providers in Singapore, as well as a recognised brand name.
Kim Paradise: One of the largest tingkat delivery providers in Singapore
A family tingkat business
From a young age, Mr Clement Tiang always aspired to run his own business. Naturally, this led him to embark on the path of being an entrepreneur. Inspired by his mother, Mdm Kim, the mother-and-son duo established Kim's (Kim Paradise) in 1999.

At the time, tingkat delivery services were thought to be less lucrative when compared to the catering business, but nevertheless, Mr Tiang and his mother saw it as an opportunity to enter a niche market with fewer competitors.

"Tingkat delivery services are especially appealing to households that want proper, home-cooked meals but do not have the luxury of hiring a helper. Not only does it help to relieve the burden on working couples, the elderly and families with young children, it also costs less to order meals through such services as compared to cooking at home.

"This is especially evident if you factor in the time and effort required for marketing and whipping up a simple meal of three dishes and a soup," said Mr Tiang.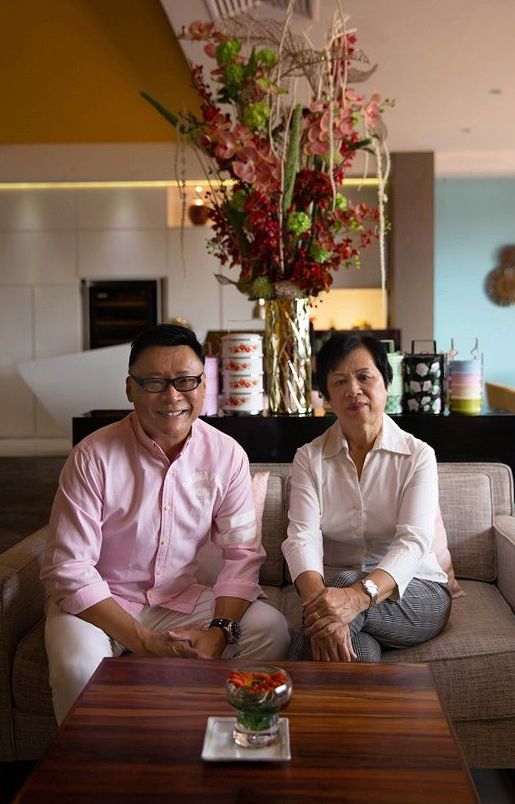 Kim Paradise started out from humble beginnings in a shared kitchen at Joo Chiat. PHOTO from ED#94 2020 Nov/Dec Pg 24-27
---
With his mother taking the lead, the duo started Kim Paradise from scratch and rented a shared kitchen from a caterer. Day to day, they learned, discussed problems and improved business operations together step-by-step. Through sheer hard work, Kim Paradise was able to grow and become a recognised brand name in Singapore today.

"My mother's patience and my creativity in the area of business management made us a great pair and we were off to a good start even though we were very new back then.

"Despite problems faced with regard to financing the business, people management and limitations in business operations, we did not give up. I'm grateful for the strong sense of trust between my mother and myself; and my father and sister helped us in every way they could. As a family, we fought through every obstacle in unity," shared Mr Tiang.
Leading with heart

When it comes to his leadership style, Mr Tiang believes in serving his customers with sincerity, being true towards his staff, and honest in working with partners and the management.

"Being approachable and willing to give quality time to your team is an important step towards good leadership. Always be ready to provide a listening ear. In hearing your team out, it also helps them to gain more confidence in their decision-making abilities."

"Employee welfare goes hand in hand with customer relationship management. When you treat your staff well, naturally they will do the same to your customers. Establishing healthy and trusting relationships with the main stakeholders of your business is key to generating positive word-of-mouth, which could encourage others to give your brand a shot," added Mr Tiang.

Asked about his role model, Mr Tiang attributes this position to his mentor, Mr Neo Kah Kiat, Founder, Chairman and CEO of Neo Group. Citing Mr Neo as someone who has a superb mentality for business, he further describes him as a hardworking, smart, charitable and all-rounded person. In light of these admirable qualities, Mr Tiang also credits a defining moment of his entrepreneurial journey to his partnership with Mr Neo and Neo Group.

"In order to be successful, one has to recognise the important value of hard work. Working hard may not always bring about success, but without it, it is almost impossible to achieve anything. As my mother always says, 'Be hardworking and build your path with a heart. If you have a heart in everything you do, people will be able to feel and appreciate it,'" expressed Mr Tiang.


Creative problem-solving

As an entrepreneur, Mr Tiang has gone through his fair share of ups-and-downs. Rather than seeing it as a difficult path, he believes that obstacles are a part of life for everyone. In overcoming challenges, he feels that it is critical to stay calm and level-headed. With experience, one will be able to tap on resources to resolve issues.

Mr Tiang recounted an instance in which Kim Paradise was faced with a delivery crisis. Two of his drivers were out of commission due to medical reasons, while another two had issues as their vehicle had broken down. Each of them had an average of 35-50 household deliveries to make within a tight timeframe of 3 hours.

"Faced with this situation, I had to resolve the issues decisively. For the two delivery personnel without vehicles, I let one of them drive my personal car and sent a kitchen helper to assist him with the delivery. I then borrowed a van from my cousin for the second driver.

"To manage the deliveries of the remaining drivers on medical leave, I split up one of the areas amongst four other drivers. The last route, containing 45 deliveries, was taken on by myself with my father's car," conveyed Mr Tiang.

To all aspiring entrepreneurs, Mr Tiang would like to provide some advice: "Be daring and creative, but cautious in planning, and ultimately, be hardworking.

"You have to be daring to take the first step and start out on your own. For many successful businesses, creativity is a key factor that has enabled them to gain a competitive advantage and stand out amongst their competitors.

"It is also essential to work hard and be meticulous with your plans. When plans are well laid out, you will naturally have the right people doing the right tasks and that saves you time. Not only would your team be able to lay their trust in you, they will also become the support that your business needs," said Mr Tiang.



This article originally appeared in the Entrepreneur's Digest print edition #94 and has been edited for clarity, brevity and for the relevance of this website.