Setting the context for change
The global COVID-19 crisis thrust businesses around the world into an uncertain and volatile environment. Almost overnight, many were caught off guard with sudden work-from-home policies and travel bans.

Organisations that depended heavily on on-site operations or were not equipped for the situation stopped work. Many moved towards remote working and waited to tide over the crisis. Yet others took the opportunity to fundamentally relook and adapt the way they do business.
Same crisis, different response. Why?
Evidently, businesses were not tackling the crisis on equal footing. Some were hit harder than others and for many, things appeared to be beyond one's control. In truth, we choose how we react to a situation.

What became apparent was that businesses responded differently to the crisis. While some businesses hoped to "wait it out", others immediately employed new strategies to adapt and transform their business.
Why might the response differ from organisation to organisation?
If an organisation is a living matter, its corporate culture is akin to its DNA. It is a set of principles that guides decision making and "the way we work".

Research has shown that organisations with strong and healthy cultures are more resilient and achieve better outcomes, such as engaged employees, loyal customers and improved financial performance.

Senior partner at McKinsey, Tanguy Catlin, has even dubbed culture to be an "amplifier", amplifying the effects of three key pillars supporting the growth and returns of businesses – Excellent Strategy, Enabling Structure and Systems, and Competent Workforce1. Without the "amplifier", it does not matter how excellent your three pillars are; it will all lead to suboptimal performance.

In times of uncertainty, culture is crucial in determining how your organisation navigates the business environment during and post-crisis. What lies here is being able to look out for opportunities during times of crisis.

With the right culture, it can bring an organisation from "bad to good" and "good to great".
What opportunity has COVID-19 presented?
In late April 2020, Barrett Values Centre conducted a global survey to understand the impact of COVID-19 on organisation culture and what employees desired moving forward2. Based on survey findings, organisations experienced significant cultural shifts due to COVID-19, moving from performance, control and hierarchy to one that is focused on people, adaptability and working together.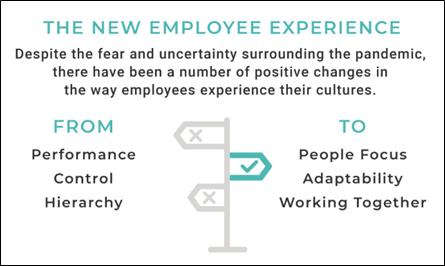 The foundation of any high-performing culture is organisational trust. Photo credit: Barrett Values Centre (PHOTO from ED#94 2020 Nov/Dec Pg 56)
---
The findings demonstrated that the global pandemic had exponentially accelerated cultural change in organisations. Transformation that used to take a few years to happen now takes place within mere weeks and months.

Looking ahead to post-COVID-19 recovery, the findings also revealed that these cultural changes that happened within organisations during the pandemic is what they want moving forward.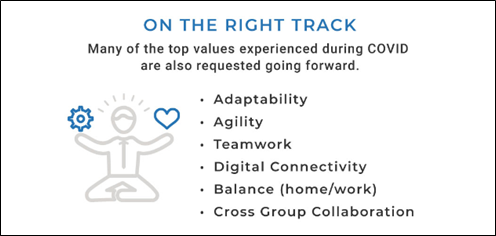 Photo credit: Barrett Values Centre (PHOTO from ED#94 2020 Nov/Dec Pg 56)
---
Building organisational trust as a foundation to navigating the future
It has been well established that the foundation of any high-performing culture is organisational trust. In navigating a post-crisis environment, trust has become more important than ever.

Without trust, limiting behaviours such as the following are observed in organisations:

Avoid taking risks

Focus on self-interest only

Failure to hold others accountable

Blame others when things go wrong

Lack of drive and discipline to make things happen

Lack of ownership
Without organisational trust, all desired values will be compromised. These values will remain merely aspirations while organisations continue to struggle with suboptimal outcomes. Where do we begin?


1. Start with getting the senior leadership team right. If senior leadership team members cannot trust one another, people across the organisation will likely adopt the same worldview3.

Is there trust and commitment within the leadership team?

Do they engage in productive conflict and hold each other accountable?

Is there focus in achieving collective results?
2. Seek alignment within the organisation. As leaders (at every level) of the organisation, below are some tips to consider:

Enable ownership – Be clear about desired outcomes (why) and enable individuals to make their own commitments to achieve results. People feel motivated when they are actively engaged and in control.

Honour your word – To build trust, others need to believe what you say you will do. Establish personal connections.

Communicate openly and honestly – Communicate and be clear about your expectations of others. Acknowledge that you do not have all the answers and admit your mistakes.

Promote accountability and avoid blame – When the results are not as intended, instead of assigning blame, focus on understanding the situation and support others to do better.

Be consistent – Trust is a daily commitment that should not be taken for granted. Regularly be there for others and show appreciation when others are there for you.
From our experience, most organisations need organisational trust. However, they tend to avoid it and struggle to achieve sustainable results. How willing are you to invest in organisational trust for your business?
Resources
A version of this article was originally published by aAdvantage Consulting on its corporate website in August 2020.

This article originally appeared in the Entrepreneur's Digest print edition #94 and has been edited for clarity, brevity and for the relevance of this website.
---
About the Author

Vincent Ho | Director | aAdvantage Consulting

Vincent Ho has 25 years of business advisory and coaching experience, and focuses on organisation transformation, customer experience, leadership team and culture development, senior leadership team coaching and change management. His motivations are driven by his core values of respect, agility and collaboration.

Rachel Lim | Consultant | aAdvantage Consulting


In her role at aAdvantage Consulting, Rachel Lim has worked closely with various clients in areas such as research and insights, human resource transformation, culture transformation and business excellence.