Mr James Ng, Managing Director of T K Foto, is ensuring the longevity of his family's photography equipment business through continual digitalisation efforts.

When Mr Ng first joined the fold of T K Foto in 2004, the old-school processes at its standalone store at Shaw Towers were a sore point.

"We were using carbon paper receipts and a traditional cash register. And the staff had to manually enter data to generate sales reports, which took so much time," said Mr Ng.

While Mr Ng was eager to modernise and improve productivity, his efforts were met with resistance.

"Most of our personnel were older than 50 and had never used a computer. The other challenge was the lack of suitable solution providers at the time," shared Mr Ng, who has since taken over the reins from his father.




Taking the first step towards digitalisation
By 2010 however, he put his foot down and implemented the company's first SAP Business One solution to support the operations at T K Foto's new flagship store at Funan Mall.

In 2014, to further streamline processes and integrate point-of-sales data and inventory tracking, Mr Ng purchased a Sales and Inventory Management solution from local developer, Xintesys, for their outlet in Plaza Singapura. Mr Ng later purchased the solution for their outlet in Funan in 2019, in which costs for this were defrayed with the Productivity Solutions Grant.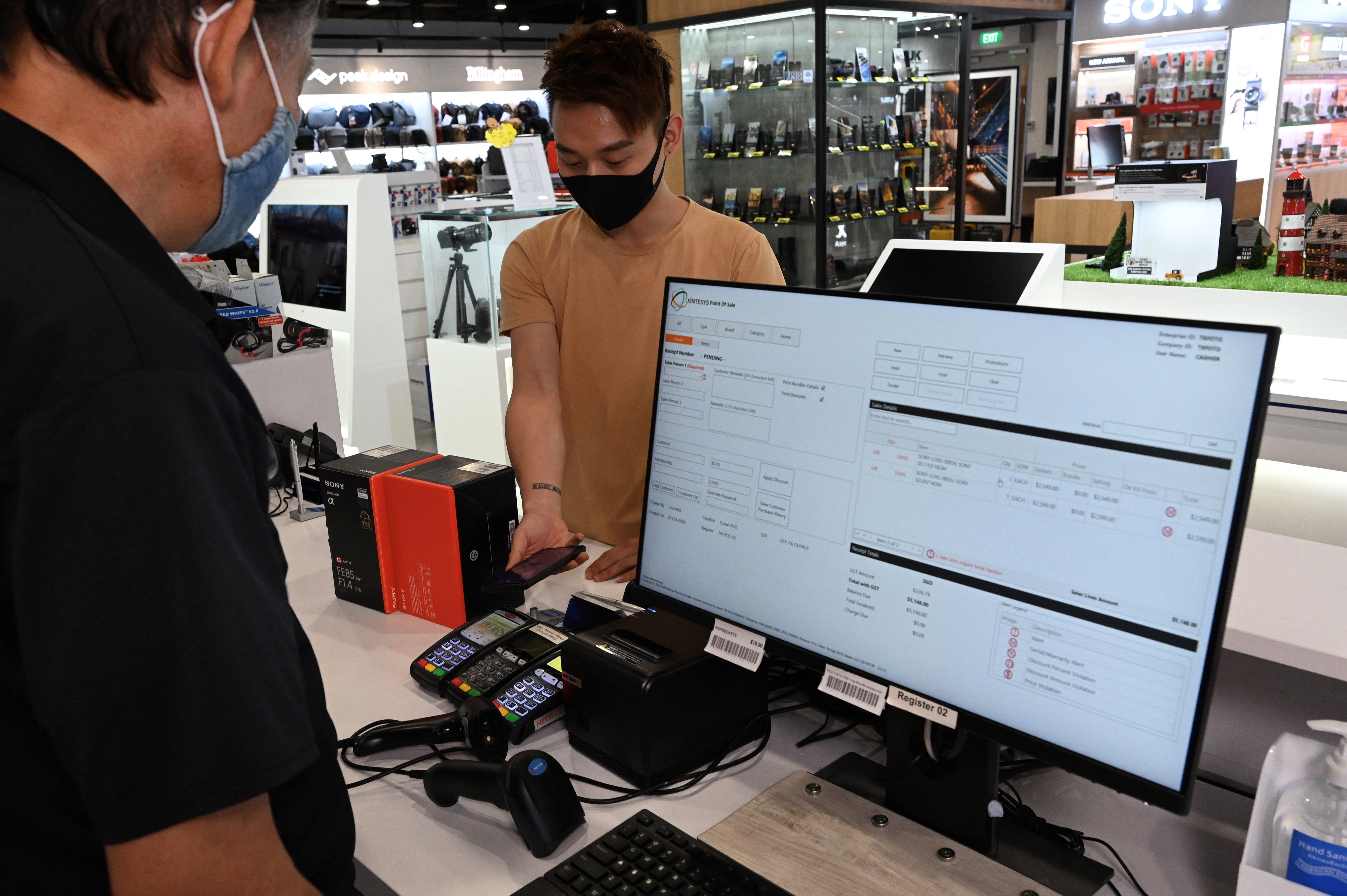 T K Foto staff using a Sales and Inventory Management solution which seamlessly integrates its POS data and inventory tracking.
---
T K Foto's digitalisation efforts did not stop there. It joined online retail platforms, Lazada and Shopee, in 2015 and upgraded its own e-commerce website in 2019.

Thanks to the SMEs Go Digital programme by the Infocomm Media Development Authority and Enterprise Singapore, T K Foto received funding support for a pre-approved solution offered by FirstCom Solutions.

The company has also taken to using PayNow Corporate and has registered on InvoiceNow (a Nationwide E-invoicing Network) to facilitate business-to-business transactions. These overall efforts to boost online presence also qualified them for the Digital Resilience Bonus (DRB, Category 2) payout.

"If we had not [digitalised when we did], the company would have been obsolete by now," expressed Mr Ng.
Mitigating impact from COVID-19 through the SMEs Go Digital Programme
While T K Foto did not invest much in driving online sales previously (it only accounted for two per cent of overall revenue), having the setup in place made the COVID-19 fallout much less brutal for T K Foto.

"When the news of the Circuit Breaker broke, we took about a week to get our online sales platforms updated – such as increasing the range of products available," said Mr Ng, whose physical stores carry thousands of different items ranging from cameras and lenses to photo printers and lighting kits.

Despite the sharp fall in physical retail sales in 2020, the steps taken to improve online sales by T K Foto have helped to soften the impact of COVID-19 on the company's revenue. This is in large part due to business growth achieved through online transactions – average monthly online sales have increased by 10 times during the crisis as compared to pre-COVID-19.

"If it had not been for the COVID-19 situation, we would be seeing revenue growth this year. E-commerce is clearly here to stay," said Mr Ng.

The data (including consumer insights) gleaned from selling online also gave the team the confidence to launch the sale of audio accessories and equipment, a completely new product category that has proved relevant to their target consumers.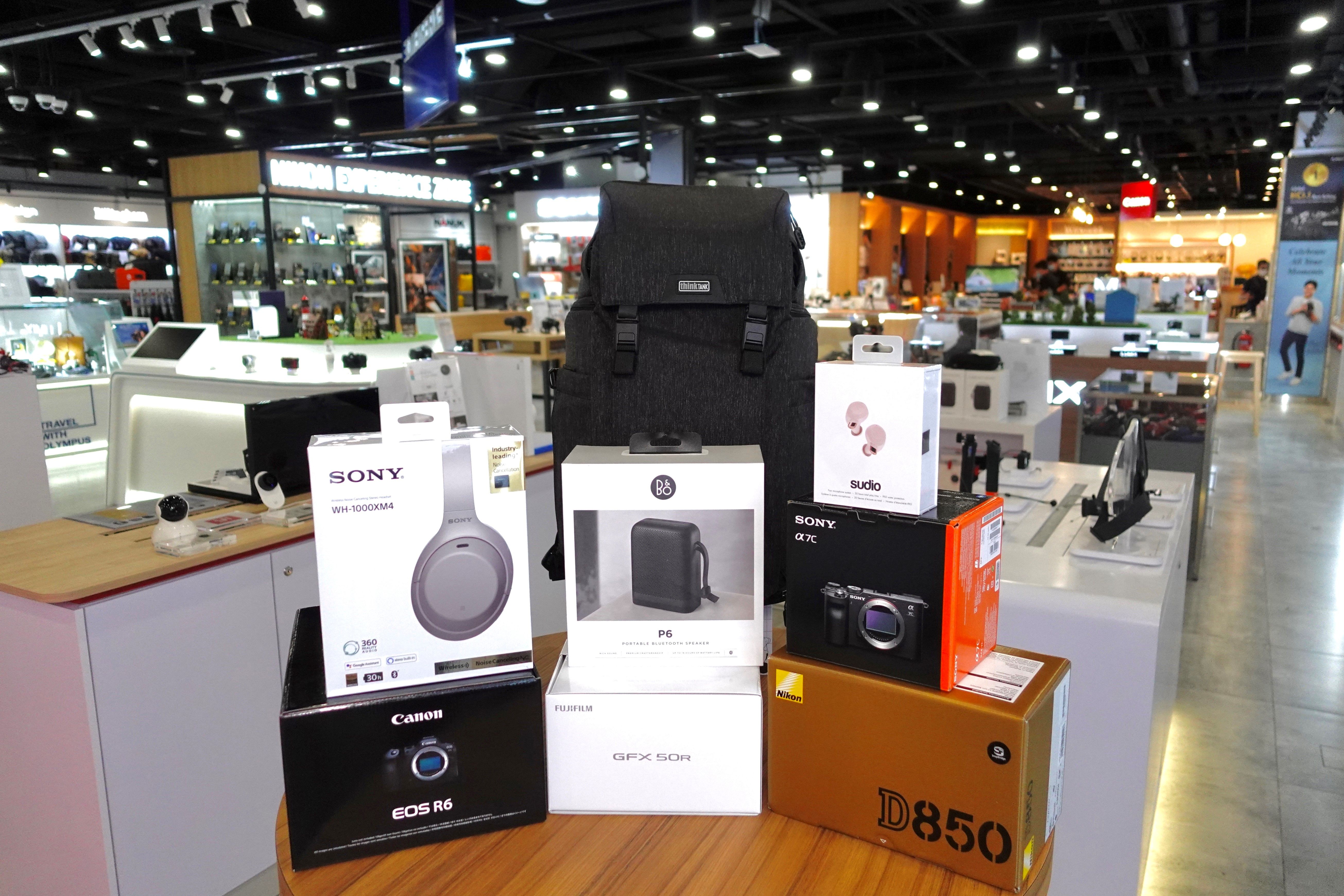 T K Foto launched a new audio accessories and equipment product category based on insights gleaned from its e-commerce solution.
---
The DRB payout also came in handy at a time when purse strings needed to be tightened and more work was needed on the digital front. "With the money, we can further improve on our website – such as implementing PayNow as an additional payment option," shared Mr Ng.

T K Foto's digitalisation journey has brought about a whole other range of operational benefits as well. Time savings were dramatic – sales reports that used to take one week to generate manually now takes only 10 minutes.

Staff, by now proficient with the platform, appreciate the efficiency and have more time for customer engagement and improving product knowledge. There is also a dedicated focus to manning online sales channels.

With technology-driven processes, it is also easier to attract young talent to join the company. "They can learn something new here instead of wasting time on unnecessary tasks," quipped Mr Ng.
Next steps in the digitalisation journey
According to Mr Ng, the pinnacle of a digitalised business is one where businesses are able to inject a personal touch into the customer experience. He cites the example of Apple stores, where customers can make payment at any spot using portable terminals. Stocks can also be easily tracked through RFID tagging, an item on the wish list he hopes to check off in due time.

While the DNA of a post-COVID shopping environment is anyone's guess, Mr Ng is keeping on top of the competition by ensuring relevance both online and offline.

"Singapore is small so people still like to shop physically but they are always on their phone, so customers will be checking prices and product specifications before they even visit your shop," said the forward-looking honcho who is committed to making continual digitalisation upgrades.

His best advice for other small and medium-sized retailers is to get up to speed with technology. "There is no escaping. You have to reach customers on the digital side now. Whether it is by changing up promotions or products, we need to always keep the interest alive."
This article has been edited for clarity, brevity and for the relevance of this website. A version of this article was originally published by the Infocomm Media Development Authority on its corporate website in November 2020.
Read more:
---
About SMEs Go Digital Programme
The SMEs Go Digital programme aims to make going digital simple for SMEs.

Under the programme, SMEs can receive up to 80% funding support from the Productivity Solutions Grant (PSG) if they adopt pre-approved digital solutions to take their businesses to the next level. There are pre-approved solutions for a range of sectors, including environmental services, food services, retail, security, wholesale trade and logistics.

A new initiative under SMEs Go Digital programme is the Digital Resilience Bonus , targeting Food Services and Retail enterprises as a start. Eligible enterprises can receive automatic one-time cash payouts of up to $10,000 when they register for PayNow Corporate and InvoiceNow (a Nationwide E-invoicing Network), as well as use qualified solutions that improve their business processes, enable them to reach out to customers online, and help them make data-driven business decisions for better outcomes.

Visit the SMEs Go Digital programme webpage for more information today. Subscribe to the SMEs Go Digital Telegram channel here for updates on new resources and support available.
For more information, contact:

SME Centre @ ASME

Block 167 Jalan Bukit Merah, Tower 4, #03-13 Singapore 150167

Website: www.smecentre-asme.sg

Hotline: 6513 0388

E-mail: enquiries@smecentre-asme.sg